GET OUT THERE!
Omar Tyree, NY Times Best-selling Author
Did you know that publishing a book can increase your brand visibility, credibility, and increase your speaking fees by $2,000?
On Tuesday, April 14, 2009 at 8p.m. begin the journey of successfully publishing your book and becoming a well-branded author.
Have you thought about writing or are you in the process of writing a book? Learn the ins and outs of self-publishing and getting your book published with a major publisher from an individual that has done it 18 times. New York Times Best Selling Author Omar Tyree has sold over 2 million books, he is teaming up with PR Guru Pam Perry to provide you valuable information on putting together a successful book concept, how to get it published, and how to market it.
This teleseminar will teach you:
· The 4 indisputable components of business that have helped Omar Tyree be successful throughout his career. (Based on his book - The Equation)
· How to reduce uncertainty regarding book publishing and marketing.
· Determine if you want to self-publish or work with a publisher.
· To become more knowledgeable about the way publishers and agents look at books.
· Writing, publishing and marketing your book for maximum sales, including information on book subject, audience, authorship, representation, and more.
· To develop a promotion checklist. (Based on her book - Synergy Energy)
· To getting more publicity, developing joint ventures, and increasing sales for your ministry, business, Christian book or other.
· To developing an effective website that sells and increases traffic, month after month.
Who should attend?
· Authors
· Aspiring Authors and Speakers
· Motivational Coaches
· Entrepreneurs who want to brand their business books
· Poets
· Fiction Writers
· Spoken Word Artists
Register for this teleseminar now!
About the Presenters of the Teleseminar

ABOUT OMAR TYREE – Business Speaker
Omar Tyree, a
New York Times
best-selling author, a 2001 NAACP Image Award recipient for Outstanding Literature in Fiction, and a 2006 Phillis Wheatley Literary Award winner for Body of Work in Urban Fiction, has published 16 books and has sold nearly 2 million copies worldwide that has generated more than $30 million.
With a degree in Print Journalism from Howard University in 1991, Tyree has been recognized as one of the most renowned contemporary writers in the literary community. He is also an informed and passionate speaker on various community-related and intellectual topics.
Now entering the world of feature films, business lectures, and children's books, Tyree is a tireless creator and visionary of few limitations.
Tyree is a popular speaker on the university and corporate circuits. In his
"Equation for Life"
lecture, Tyree weaves together a full-proof formula for attaining lifelong success in business, as well as everyday living. Ideal for innovation, corporate sales and marketing teams, one attendee who heard the lecture commented, "Omar Tyree's Equation for Life speech made me rethink my whole life - it has given me the focus I need." The success of the speeches over the last 11 years landed Tyree his first nonfiction book deal with John Wiley, the number 1 business publisher in the world.
The Equation: Applying the 4 Indisputable Components of Business Success
, was released in early January 2009.
As an author, journalist, performance poet, songwriter, screenwriter,entrepreneur, innovator of various creations, and an energetic and fiery speaker,Tyree is no stranger to the world of contemporary urban influence. Tyree became one of the dominant literary promoters of the 1990s, leading to offers of publishing deals by a number of influential mainstream book publishers. In 1995, he signed a lucrative two-book arrangement with publishing powerhouse Simon & S chuster. A few years later, Tyree signed an undisclosed long-term contract that established him amongst
Simon & Schuster's top authors.
His journey as an entrepreneur began in his early 20s when he started the book publishing company Mar Productions, to release his earliest works of fiction. Tyree's entrepreneurial ventures have evolved to include
the Urban Literacy Project
as a nonprofit organization to inspire reading, writing, thinking,visualization, application and financial literacy skills among disadvantaged youth and adults. He has also formed Renaissance Entertainment Group, a partnership with self-made multimillionaire Arthur Wylie, to produce Tyree's body of fiction novels into feature films.
Tyree's articles have been published in the Washington Post, Essence,Upscale,Ebony, TheDailyVoice.com and several other publications.

www.OmarTyree.com

About Pam Perry, PR Coach
Pam Perry is a ministry marketing pioneer and expert in the African American Christian market. Her public relations and advertising career spans over two decades. She is the co-author of
"Synergy Energy: How to Market Your Book, Grow Your Business and Brand Your Ministry."
She is the Chief Visionary of Ministry Marketing Solutions Inc.
She spent the first ten years working in ad agencies and secular media. She has dedicated the past ten to ministry marketing. Her company has a roster of some of the most well-known Christian publishers and African American Christian authors in the industry.
See
www.PamPerryPR.com
for her signature "Get Out There" PR Boot Camp Tool Box that helps authors get publicity and exposure right away.
Her Company website: www.MininstryMarketingSolutions.com Get a free mp3!
Detroit Free Press recently called her "a marketing whiz on an almost immortal mission" Publishers Weekly called her a "PR Guru." Now, author of "Synergy Energy" and known as the "connector and PR coach," Pam Perry knows how to pull the right people together for the right project at the right time and garner the right publicity. Her public relations and advertising career spans over two decades.
A local Emmy Award-winning professional, Perry and has worked in the whole gamut of media ranging from the Detroit Free Press, various radio stations, and Christian Television Network (CTN). She has even published a 40,000-circulation magazine, Soul Source. Perry has provided PR counsel to clients like McDonald's while at Hermanoff and Associates agency and provided fund development and public relations for Joy of Jesus, Inc. and The Salvation Army.
One of the nation's foremost experts in the African American Christian market, Perry is the chief visionary of Ministry Marketing Solutions, Inc., the public relations and marketing consulting firm launched in 2000. Some author clients include Bishop Thomas Weeks, Bishop T.D. Jakes, Bishop Donald Hilliard, Dr. Suzan Johnson Cook, Dr. Fred Price and Pastor Bill Winston.
Her passion is Christian books and assisting writers in becoming authors through the American Christian Writers Association as president/founder of the Detroit Chapter. She hosts weekly teleconferences on various PR/marketing topics with self-published authors and provides PR counsel to ministries nationwide, training church marketing staffs.
She is the creator of Chocolate Pages Network and The Chocolate Pages Show on Blogtalk Radio.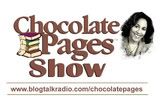 Hear the show featuring Omar Tyree. Click here
wwwy.tinyurl.com/omartyree
After this teleseminar you'll have all the solutions and the winning equation to get your book in print and promote it effectively.
If you have a finished manuscript, you'll get the information and contact to have your finished, printed book in your hands in a month of less. You will get a handbook of the seminar, a recording of the session and an ebook on publishing.
The BEST publicist for your book or project is you. No one will have the passion, energy and heart for your creative work that you do. You wrote it, you understand it, and now you want to use what's in your hands to make a living from it. We'll give you the winning equation to do it all.
The success of your book is ultimately in your hands.
Omar and Pam will give you the guidance to "get out there" to make your dreams come true.
Register for this teleseminar now!
Click
Here
to Register
P.S. All participants will get a bonus of the digital version Synergy Energy book and a FREE 30 minute consultation after the event.
Online Event Registration
-

See www.PamPerryPRCoach.com too and join
www.ChocolatePagesNetwork.com!